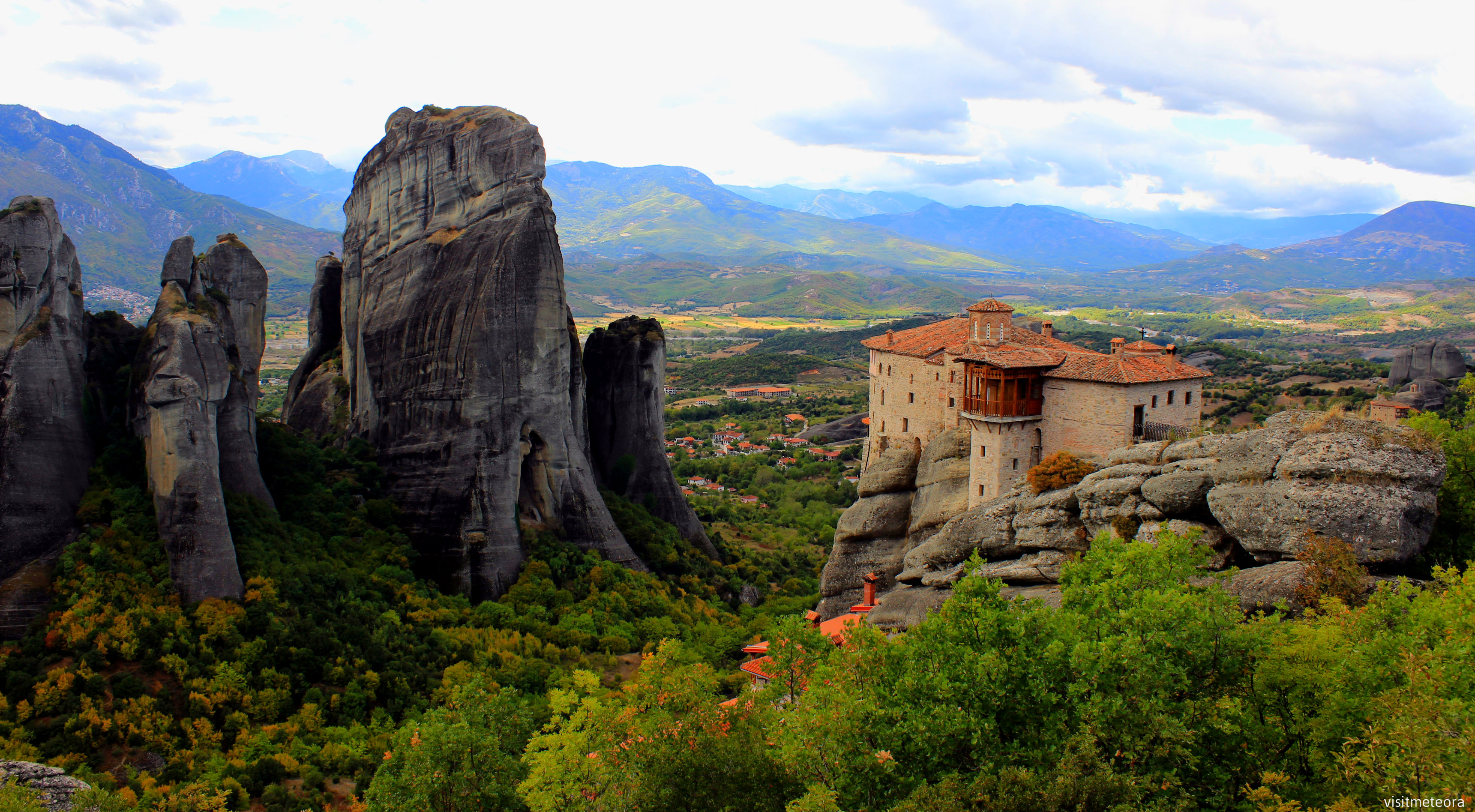 EVERY MONDAY-FRIDAY
Do not miss the opportunity with this two day tour from Athens to see and visit the majestic Meteora grey rocks and its  cliff-top monasteries.
The first day you will arrive at Delphi  around noon.  Famous for its theater, Temple of Apollo and ancient ruins, Delphi was considered the center of the earth and the universe, and played a central role in the classical Greek world. Visit  at the archaeological site and the TEMPLE of APOLLO famous for its oracle. In the afternoon after lunch depart through Central Greece and the cities of Lamia (short stop), Trikala crossing the Thessalian plain, to Kalambaka (a small town built at the foot of the majestic grey rocks, and crowded by the METEORA Monasteries (short stop for souvenirs). Overnight stay in Kalambaka.
The second day leave in the morning for nearby Meteora for a tour of the cliff-top monasteries to visit two different BYZANTINE MONASTERIES* built on top of rock towers and providing fantastic views over the plain.  Meteora is included on the UNESCO world heritage monument list.
The monasteries are perched on top of towers of sandstone, which for centuries provided totally inaccessible retreats for the monks. Meteora is considered one of the most beautiful area of mainland Greece, and its monasteries are one of the country's most unique attractions.  By your return you may visit optional a factory of Byzantine style icons. Return to Athens passing by the heroic monument of Leonidas king of Sparta  in THERMOPYLAE (short stop for photos).
The tour returns to Athens in the late afternoon
* Normaly we are visiting Great Meteoro Monastery and St. Stefanos. Every Tue. we are visiting instead of Great Meteoro, Varlaam monastery.
Highlights
Entrance at Delphi archaelogical site
Visit temple of Apollo
Two Meteora Byzantine Monasteries
Great Meteoro monastery
Monument of King Leonidas of Sparta
Inclusions
Entrance fees
Transport by luxury bus
Services of a Professional and Licensed guide
Breakfast and dinner
Hotel accomodation based on your choice (First class or Tourist class)
Exclusions
Visit of Delphi museum is not included
Hotel accommodation tax
Gratuites (optional)
Drinks and beverages
Lunch
Additional Info
May be operated by a multi-lingual guide.
All the mentioned prices are per person on twin sharing basis. In case of one traveller the single supplement option has to be chosen. Please note that from 1/1/2018, a new hotel accommodation tax will be applied and paid directly in hotels as following: 5* hotels – 4 Euro per room/per night, 4* hotels – 3 Euro per room/per night, 3* hotels – 1.5 Euro per room/per night.
Circuito de 2 dias Delfos- Meteora
VIERNES TODO EL AÑO 
LUNES DE JULIO A SEPTIEMBRE
PRIMER DIA : Salimos en dirección noroeste hacia la provincia de Boecia. Pasando por Tebas , Lebadia y el pintoresco pueblo de Arahova , llegaremos a las faldas del Monte Parnaso , donde se ubica Delfos. Allí podrán visitar el Santuario de Apolo (dios de la música y la belleza) asi como el Oráculo mas famoso de la antiguedad, por la influencia que ejercio en la toma de desiciones, que fueron de gran relevancia en la vida griega. Visita al conjunto monumental y Museo donde se expone el famoso Auriga de de bronce (INIOHOS) Cena y alojamiento.
SEGUNDO DIA : Desayuno, visita de dos de los Monasterios de Meteora. Los Meteoros se convirtieron rápidamente en un centro monástico importante , el segundo despues del Monte Atos. De regreso de Atenas ,pasaremos por Termópilas. Entre las montañas Calidromo y el Golfo de Malasio , se encuentra el estrecho de las Termópilas, un punto estratégico vital. Debido a su configuración en este paso, se sucedieron varias batallas , siendo la más conocida la heroica batalla que enfrentó a los espartanos contra los persas en el 480 a.C
Los Hoteles que usamos son:
KALAMBAKA :
A' CATEGORÍA HOTEL DIVANI PALACE
B' CATEGORIA – HOTEL ANTONIADIS
Regreso a Atenas aprox. 18:30 hs