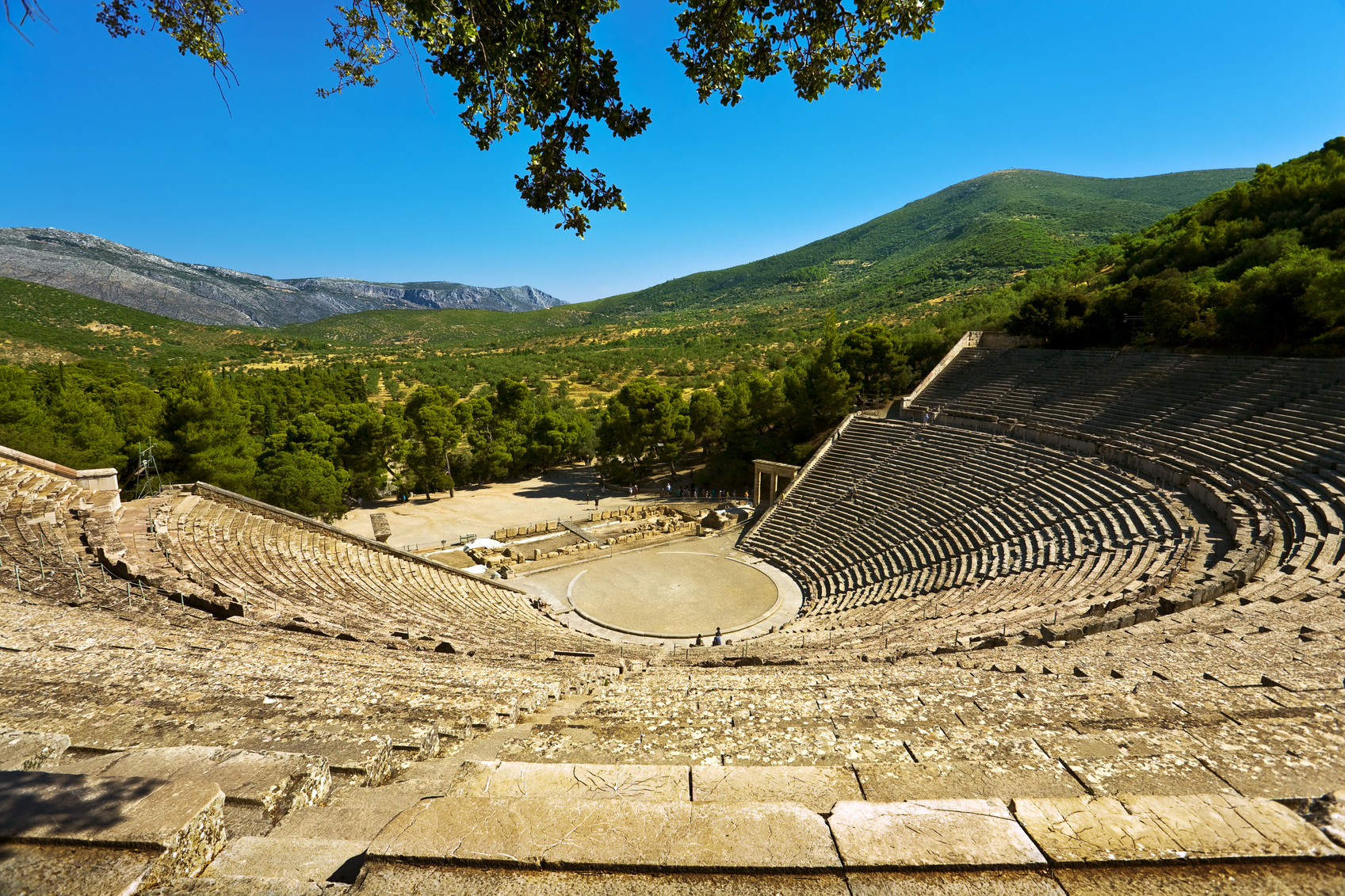 EVERY TUESDAY-THURSDAY-SATURDAY
Explore with this guided one full day trip from Athens to Argolis the remains of the ancient city of Mycenae a major centre of Greek civilization from 1600BC to 1100BC and a world heritage monument. Depart from your hotel for one day tour via the coastal National highway for the Corinth canal (short stop).
After the Corinth Canal, you enter the region of Argolis, land of Homer's Golden Mycenae, a UNESCO World Heritage site. Dating back to the second century B.C., Mycenae was one of the major centers of Greek civilization and a military stronghold which dominated much of southern Greece.
Visit the archaeological site, home to the kingdom of mythical Agamemnon. You will see the Cyclopean Walls, the Lion's Gate, the Royal Tombs, including Agamemnon Clytemnestra's, and the Treasury of Atreus, a magnificent 14th-century B.C. structure. Time will then be taken for a traditional Greek optional lunch  at a nearby restaurant.
Before lunch an optional stop in a pottery factory. After lunch through ARGOS proceed to Nauplia the first capital of modern Greece with its Venetian fortress of  PALAMIDI and the fortified islet of BOURTZI (short stop). Continue on to Epidaurus and visit the ancient theatre. The UNESCO'S world heritage listed monument is reputed to be the birthplace of Apollo's son Asklepios, the healer and was the most celebrated healing center of the classical world.
Epidaurus is probably most famous for its theatre, one of the best preserved classical Greek buildings and still used today due to its amazing acoustics. The  Argolis (Mycenae – Epidaurus) day tour returns to Athens in the late afternoon.
Highlights
Short stop at the Corinth Canal
Guided tour in Mycenae
Lion's Gate
Visit the tomb of Agamemnon
A short stop in Nafplia the first capital of modern Greece
Entrance to Epidaurus and visit the ancient theatre
Inclusions:
Entrance fees
Transport by luxury A/C bus
Pick up and drop off service
Services of a Professional and licensed guide
Lunch in a Greek Restaurant
All taxes
Free WiFi on coaches
Exclusions:
Gratuities (optional)
Drinks and beverages
Additional Info:
The full day tour, during the summer season, every Tuesday and Thursday will stop for lunch at Nafplion. The other days will stop for lunch in a traditional restaurant outside Mycenae.
Argolida dia completo
VERANO : MAR-JUEV-SAB
Peloponeso fue el gran escenario del Helenismo! aquí se instalaron primero los guerreros Dóricos , en Esparta de los mitos de Menelao , de Paris y de la bella Helena . Aquí en Peloponeso , el rey Pelops , nieto de dioses , se inspiró e invento los Juegos Olímpicos. Aquí, en Micenas , Micenas de mucho oro,segun Homero , Agamenón , nieto de Pelops , hermano de Menelao , reunio a los Helenos y fueron a la conquista de Troya…
Salimos de Atenas para pasar por el Canal de Corinto , este impresionante canal que se encuentra al viajar del Atica al Peloponeso , une el Golfo de Corinto con el Sarónico. Recorrido a traves del tiempo donde pueblos de ayer y hoy se entremezclan en el camino. Despues de una corta parada en el Canal de Corinto retrocederemos tres mil años para visitar el Acropolis de Micenas. Comenzaremos la visita con la tumba de Atrides , atravesando la Puerta de los Leones, excepcional en la que se consigue magistralmente la simetría de las formas , la fiereza en la representación de los leones. Entramos asi en la "ciudad rica en oro" como fue descripta por Homero, donde podremos apreciar las Murallas Ciclópeas. Mas tarde nos adentramos en la cultura del siglo IV a.C , admirando el Teatro de Epidauro , que con una capacidad de casi 16.000 espectadores , es famoso por su acústica. Epidauro , fue uno de los centros de peregrinación mas importantes de la antiguedad , pues aquí se encontraba el Santuario mas famoso del dios médico Asclepio. En la ladera de la montaña Knortion se encuentra el Teatro de Epidauro , el mejor teatro conservado hasta nuestros días. Su construcción no se realizó independientemente de Asclepion , este formaba parte del proceso terapéutico , a través de las representaciones teatrales , se conseguía la distracción de los pacientes , lo cual formaba parte del proceso de curación de sus almas.
Almuerzo incluído y regreso a Atenas aproximadamente 19:30 hs.