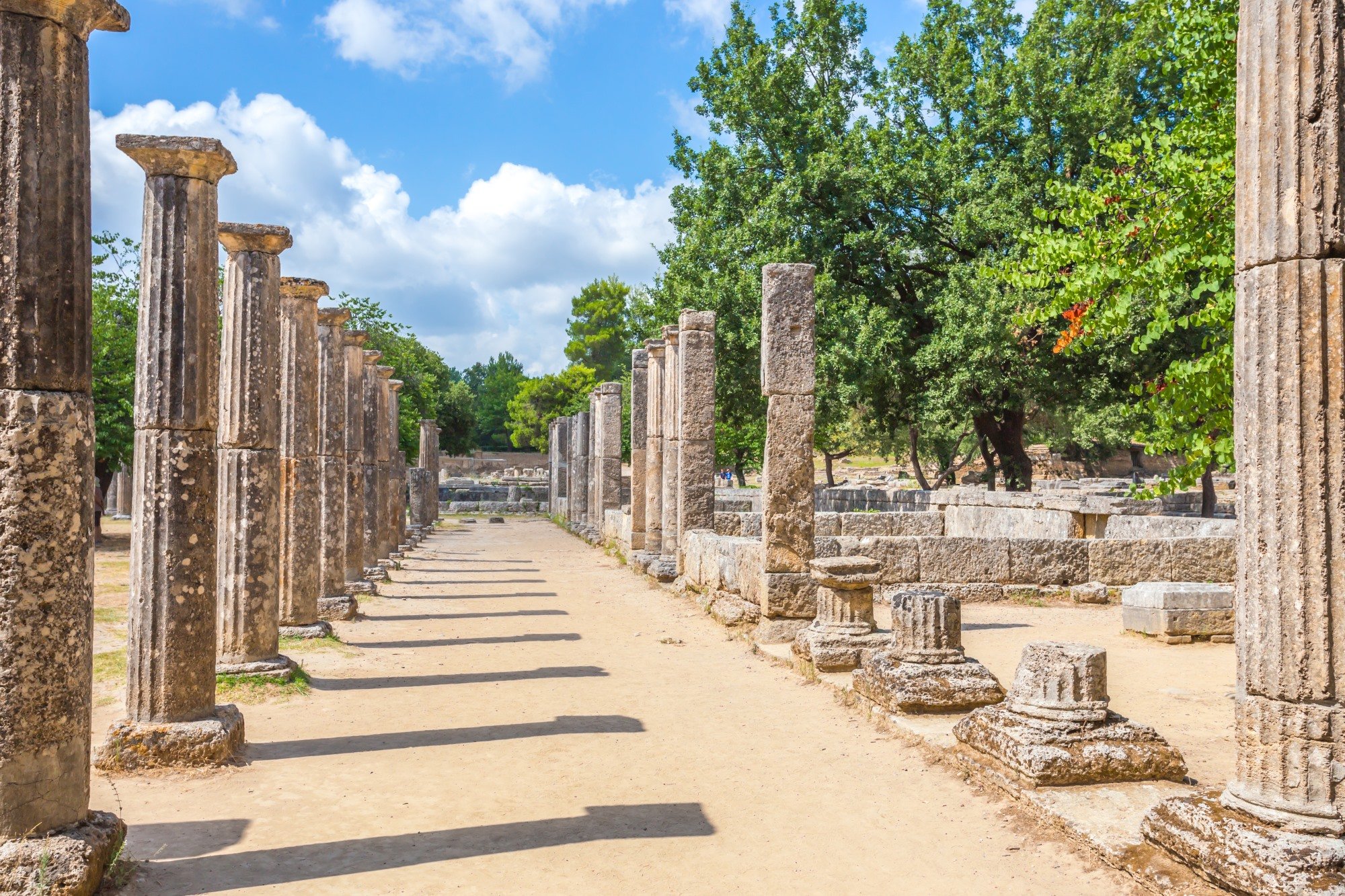 EVERY MONDAY-SATURDAY
Explore the glory of ancient Greece with this four day classical tour from Athens. With this unique tour  visit and enjoy five UNESCO'S world heritage sites.
1st DAY: Depart from Athens for the Corinth canal (short stop). Drive to Epidaurus and visit the Ancient theatre, world famous for its outstanding acoustics. Proceed to Nauplia (short stop) and through the plain of Argos arrive to Myceane. Visit the archaeological site and the Tomb of Agamemnon. In the afternoon (optional stop for souvenirs) depart for Olympia, the birth place of the Olympic Games. Overnight stayOlympia.
2nd DAY: Visit the archaeological site with the Temple of Zeus, the Temple of Hera, the altar of the Olympic flame, the Stadium and the archaeological Museum. Depart via PATRAS (short stop) to RION, cross the Corinthian bay by the  bridge to ANTIRION. Pass by the city of Nafpakros and from there on,  along the coastal road to Delphi, known in ancient times as the navel of the world. In the afternoon visit the picturesque mountain village of Arachova. Overnight stay in Delphi.
3rd DAY: Visit the archaeological site, and, the Museum of Delphi. Depart for Kalambaka via Central Greece (short stop by Lamia). Overnight stay in Kalambaka (a small town built at the foot of the majestic grey rocks and crowned by the Meteora Monasteries).
4th DAY: Leave in the morning for nearby Meteora to visit the BYZANTINE MONASTERIES. Return to Athens passing the heroic monument of Leonidas of Sparta at Thermopylae.
Highlights
Corinth canal
Mycenae archaeological site
Ancient theater of Epidaurus
Olympia archaeological site & museum
Delphi site & museum
Meteora rocks with its spiritual monasteries
Inclusions:
Entrance fees
Transport by luxury bus
Hotel pick up service
Services of a Professional and Licensed guide
Breakfast and dinner at the hotel
Hotel accomodation based on your choice (A class / T class)
Exclusions:
Hotel accommodation tax
Gratuites (optional)
Drinks and beverages
Lunch
Additional Info:
To enter the monasteries, appropriate clothing is required. Ladies should not wear short skirts and must have long sleeves. Men are not allowed to wear shorts. Normally we are visiting Great Meteoro Monastey and St. Stefanos. Every Tue, we are visiting instead of Great Meteoro, Varlaam monastery.
The tour may be operated by a multi-lingual guide.
All the mentioned prices are per person on twin sharing basis. In case of one traveller the single supplement option has to be chosen.
Please note that from 1/1/2018, a new hotel accommodation tax will be applied and paid directly in hotels as following: 5* hotels – 4 Euro per room/per night, 4* hotels – 3 Euro per room/per night, 3* hotels – 1.5 Euro per room/per night.
MIERCOLES TODO EL AÑO 
SABADOS : DESDE JULIO A SEPTIEMBRE
PRIMER DIA : Salida de nuestra terminal en dirección al Canal de Corinto,donde realizaremos nuestra primera parada. Visitamos el famoso Teatro de Epidauro, conocido mundialmente por su acústica. Pasando por la ciudad de Nauplia llegamos a Micenas , donde podremos conocer la Acropolis prehistórica , con la puerta de los Leones y la tumba de Agamenon. Visita del Museo de Micenas. Por la tarde, atravesando el Peloponeso central , llegamos a Olimpia. Cena y alojamiento.
SEGUNDO DIA : Desayuno.En Olimpia conoceremos las instalaciones del antiguo Estadio Olímpico , donde se realizaron los primeros Juegos Olímpicos. OLIMPIA era el santuario mas importante de los griegos antiguos, lugar de culto a Zeus,el primero entre los dioses , donde en su honor se realizaban los Juegos Olímpicos. La importancia de estos juegos es evidente dada la multitudinaria participación de las ciudades griegas, que mantenían una tregua mientras duraba su celebración y por el hecho de que la Olimpiada, es decir, el periodo de cuatro años comprendido entre la celebración de dos juegos, fue reconocido como el único sistema cronológico aceptado para toda la Grecia. Visita al Museo de Olimpia.
TERCER DIA : Desayuno.En Delfos,ciudad conocida como el centro del mundo. Visitaremos el Museo local, con su famosa estatua "El Auriga de bronce" y el sitio arqueológico . Salida  pasando por el pueblo de Arahova , al este de Delfos, a 960 metros sobre el nivel del mar. Durante los meses de invierno el turismo afluye debido a la cercana estación de esquí del Parnaso.El pueblo es famoso por su industria de telas y su artesanía. Regresando pasamos por las afueras de Levadia y Tebas.
CUARTO DIA : Desayuno.Visita de dos de los Monasterios de Meteora. Los meteoros son un conjunto de peñascos rocosos, altos y de difícil acceso, localizados en el centro del valle de Tesalia que se formaron a través de varios procesos geológicos . Se trata de un fenómeno geológico único que da lugar a un paisaje sin igual que armoniza completamente con los innumerables monasterios construídos en las cimas de las rocas. Estos peñascos de configuración verdaderamente peculiar, atrajeron la atención de los monjes ascetas a mediados del siglo XI. Un siglo mas tarde los ascetas se organizaron en el convento de Stagoi y lo llamaron Panayia Daupani. A partir del siglo XIV empezaron a fundarse los primeros monasterios de la zona. Salida hacia Atenas , pasando por Termópilas, donde se encuentra la estatua del rey espartano Leonidas.
Los hoteles que usamos son:
OLYMPIA
A ' CATEGORIA : ANTONIOS
B ' CATEGORIA : ILIS
DELFOS
A ' CATEGORIA : APOLLONIA PALACE
B ' CATEGORIA : HERMES
KALAMBAKA
A ' CATEGORIA : DIVANI PALACE
B ' CATEGORIA : ANTONIADIS