Experience Santorini with this 2-day tour from Athens!!!
It has been said that the sunsets in Santorini are the best in the world. From the Caldera breathtaking views of the volcano & neighbouring islands. From the east, miles withgreat red, white and black beaches to the village of Oia.  Everywhere one sees small domed churches and remnants of days gone by.
This is Santorini seen through the eyes of people who know & love it …

Santorini is located at the south end of the Cyclades island complex, at a distance of 128 nautical miles from the port of Piraeus.
Santorini or Thera, as is its official name, given in honor of the island's patron saint, St. Irene of Thessaloniki, is undoubtedly the most extraordinary island in the Aegean Sea. Its awesome landscape was shaped by a huge volcanic eruption 3,500 years ago, which caused tidal waves that wiped out the Minoan civilization of Crete, 70 miles away.
It was this volcanic eruption which reshaped the island into the magnificent scenery of today
Arrive afternoon and during the trip you will have the chance to see some of the most beautiful islands of Aegean. Arriving at the port of Santorini transfer to your hotel. The rest of the day free at leisure in order to enjoy one of the most romantic islands of the world
The next  morning is at your leisure to relax on amazing beaches or to visit the main town, Fira, which is a bustling place which invites everyone to shop, stroll though its streets, or enjoy a meal in one of the restaurants overlooking the volcanic site. If you like the history you may visit "Akrotiri" site to see the ancient remains after the volcano explosion.  Overnight in Santorini.
Your last day is free to ejoy the island. In the afternoon transfer to the port.
Your stay in Santorini  is unescorted and gives you the freedom and flexibility to enjoy your time on the island at your own leisure.
Highlights
Explore the island of Santorini at your leisure
Fira town with its traditional narrow walkways
Amazing volcanic view
Breathtaking Oia sunset
Explore the volcano or visit Akrotiri Arc. site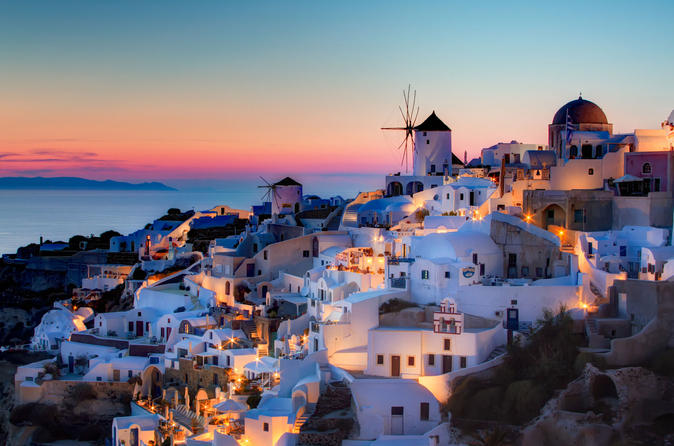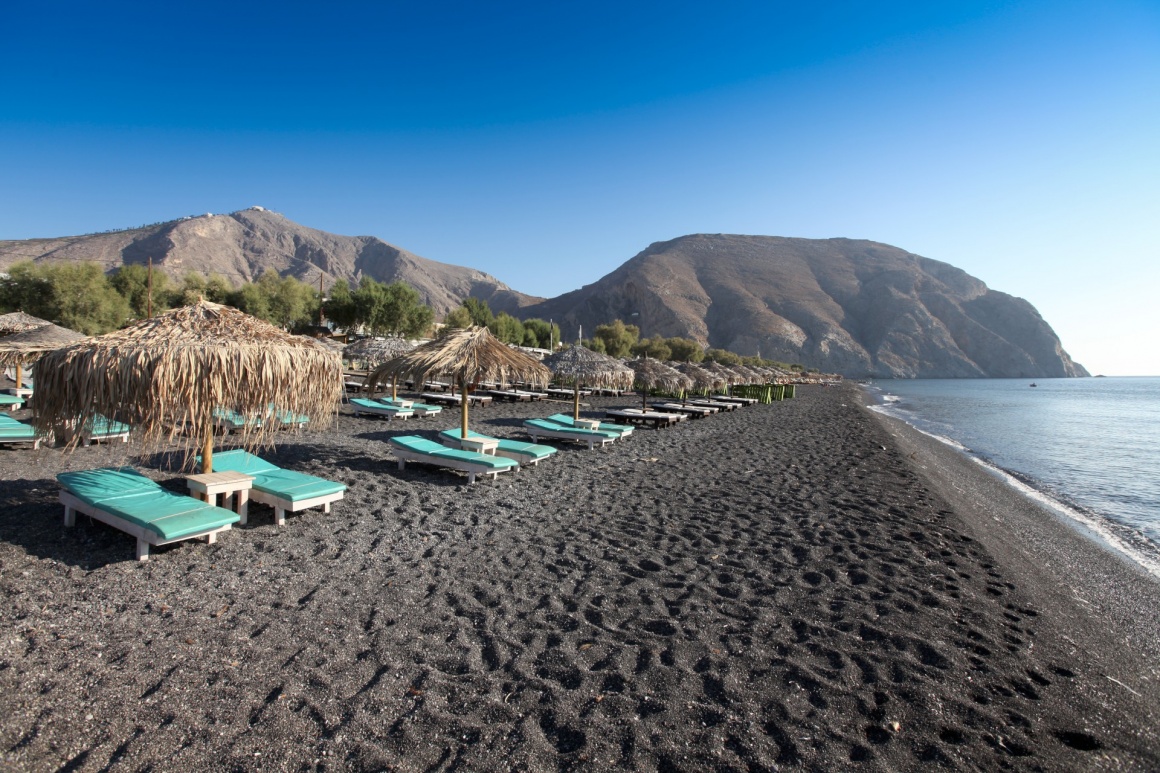 Period

Hotel
3days/2nights

prices from

single sup.+
OCT-MAY
3* city or beach
240.00
150.00
4*city or beach
300.00
180.00
4*caldera view
400.00
280.00
5*caldera view
500.00
350.00
JUNE
3* city or beach
280.00
140.00
4* city or beach
350.00
200.00
4*caldera view
400.00
290.00
5*caldera view
500.00
300.00
JUL-AUG-SEP
3* city or beach
330.00
180.00
4*city or beach
400.00
250.00
4* caldera view
500.00
300.00
5* caldera view
600.00
350.00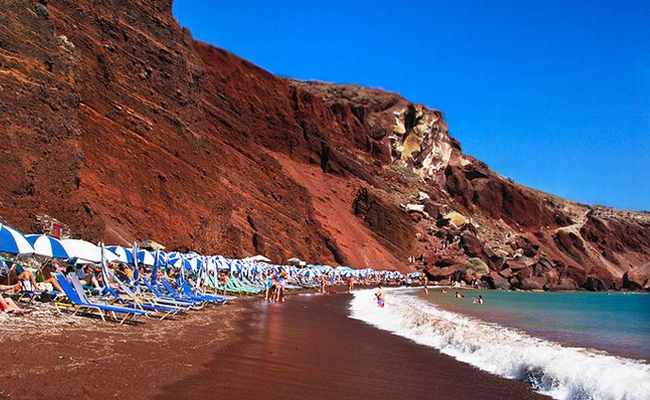 DAILY DEPARTURES
Inclusions:
All prices are per person in double or triple rooms and include:
Tickets by normal ferry
Hotel Accommodation
Breakfast
Transfers port/hotel/port
Transfer from/to your hotel in Athens centre to Piraeus port
* speed ferry supplement + 30.00 EURO on economy class per person per way
Exclusions:
Hotel accomodation tax
Drinks and beverages
Lunch/Dinner
Personal expenses
Additional Info:
Reservations depend from the availability of the ferry tickets and the hotels on the island. Usually the hotel is located at Fira, at Kamari beach or at Perissa beach.
Reservations are accepted 48 hours prior to the tour.
Pick up is available from Athens center hotels around 06:15.
All the mentioned prices are per person on twin sharing basis.
In case of one traveller the single supplement option has to be chosen.
The boat trip with the normal ferry is 8 hours and with the fast ferry is around 5 hours.
Please note that from 1/1/2018, a new hotel accommodation tax will be applied and paid directly in hotels as following: 5* hotels – 4 Euro per room/per night, 4* hotels – 3 Euro per room/per night, 3* hotels – 1.5 Euro per room/per night.